A Family Found
by Lucienne Pilon-Shatford
Thunder Bay, Ontario, CANADA
Family photograph of Grand-father Élie Pilon given by Réjeanne Pilon-Legault (member 259 of l'Association des Pilon d'Amérique), to Lucienne Pilon-Shatford of Thunder Bay, Ontario. Lucienne discovered her long lost relatives during the "HOMMAGE À ANTOINE" Association des Pilon d'Amérique Family Reunion at Pointe-Claire, Québec, CANADA in August 1997.
(Note: Élie and Dorélia were married on July 11th 1892 in Embrun, Ontario, CANADA.)
Row 1: left-right: Grand-father Élie, Grand-mother Dorélia Grignon, Rolland, Roméo.
Row 2: Alexandre, Agnès, Lucie, Léoza, Yvonne, Albertine, Adrien (father of Réjeanne), Régina.
Note: Grand-father's house is still standing. Sylvio, Réjeanne's brother, lives in it. This house is over one hundred years old.
---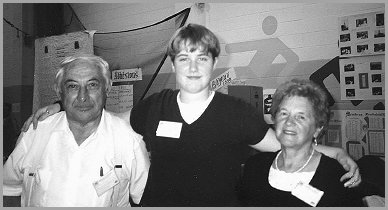 Dear Rita et Bernard,
I've been wanting for a long time to send you this little note. I hope that all goes well with you and that last Winter's Ice Storm has not too seriously inconvenienced you. Leslie and I are so very grateful to both of you for the important role you have played in the founding of "l'Association des Pilon d'Amérique". Thanks to both of you we are now able to create links with family. For the first time in our lives we have received a Christmas Card from cousins. How wondeful it is to now find answers to the so many questions that have crossed our minds. Accept the expression of our gratitude and our love.
Lucienne
Photo: Bernard Gaouette, Leslie Shatford (Lucienne's daughter) and Rita Pilon-Gaouette, honorary president for life.