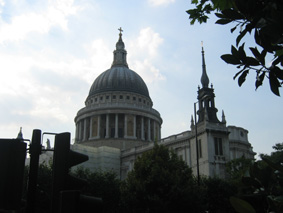 Threadneedle Street

Some things do change. On February 10, 1684, Daniel Pilon and Elizabeth Nepueu had their child Pierre baptised in the protestant, Hugeunot church on Threadneedle Street in the city of London (follow this link to learn more about the Pilons of England). At present it is not known when Daniel and Elizabeth arrived in England. There were Pilons in the Canterbury area, that part of England lying closest to France, for at least 50 years. Perhaps they were related. We will likely never know. One thing we can be certain of is that this London parish of religious refugees must have been very humble, located as it was in the shadow of St.Paul's cathedral whose silouette against a smoke filled sky during the Battle of Britain will forever remain a symbol of the courage and tenacity of the British people. Other Pilons would bring their children to be baptized at the Threadneedle church during the first decades of the following century. It is likely then that some Pilons in fact lived in this neighbourhood.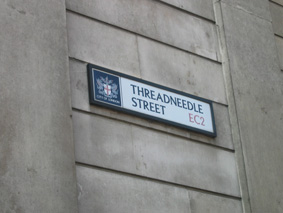 What came of this part of the ancient city of London that had been founded by the Romans about the year 50? Well, while in London on business in July of 2006, I attempted to find this part of the city where my distant cousins had lived more than three centuries ago. It was easy to locate Threadneedle Street on maps, but I had no idea what I would find. The buildings that I passed as I walked towards the street after visiting St.Paul's cathedral gave no hint of the former French immigrant community. Everything had the appearance of solid wealth and reserved Englishness. I learned that the neighbourhood had become the financial centre of the London and that the Bank of England had been constructed very near the site of the old Huguenot church. As recently as 2004, the London Stock Exchange had been located in the area.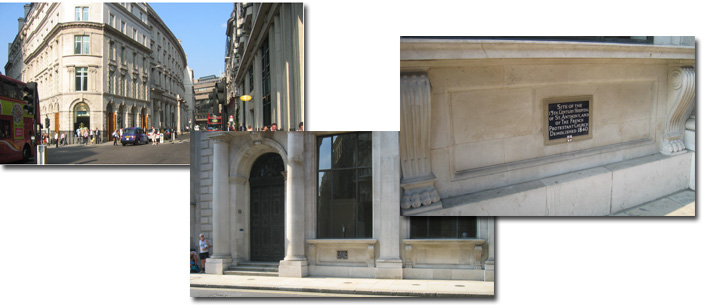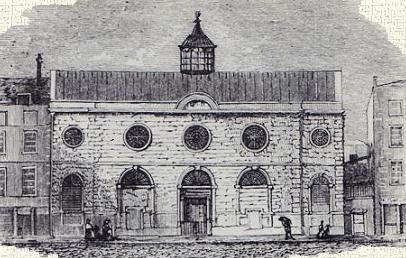 But finally, my eye caught a small plaque located beneath the sill of a large window of a three story stone building. To read it a person must bend down as it is barely inches from the level of the sidewalk. The enamelled plaque bears a simple but clear message that you can read for yourself below. The church had apparently been constructed in 1550.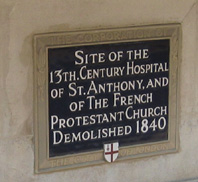 And so, all traces of the building and the families that once worshipped in the Huguenot church of Threadneedle Street have disappered. Yet, it is comforting to know that this part of the history of London and indeed of the English people is honoured and recounted to the passerby, regardless of their origins.

To learn more about the Threadneedle Huguenot church, follow this link: (http://www.art-science.com/Ken/Genealogy/PD/ch16_Churches.html)


---
Soho Square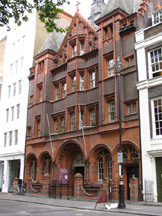 In September of 2009, Ihad the pleasure of again visiting the city of London, England. While my main business took place at the British Museum, I always make a point of visiting other museums in the vicinity and generally learning a bit more of the places I visit. A quick search on the internet indicated that I was relatively close to Soho Square, the location of another French Huguenot place of worship, this one still standing and still being used...in FRENCH!!!

This simple fact says much about some of the reasons that compelled some of our distant cousins to leave their homes and become refugees in a foreign land. It was about their religion and the persecution they were experiencing. Their language was still important to them and it remained that way for centuries.

The area around Soho has a long and, to say the least, colourful history; for most of the XXth century it was an important entertainment center for London, but with a seedy side. Today it is an upscale entertainment district and Soho Square, located in its heart, provides a quiet oasis from the activity on the main streets. The Eglise protestante franšaise de Londres was established there in 1893 and replaced the Threadneedle Street place of worship which burned in 1840-41.

Click here to visite the websie of l'Église Protestante Française de Londres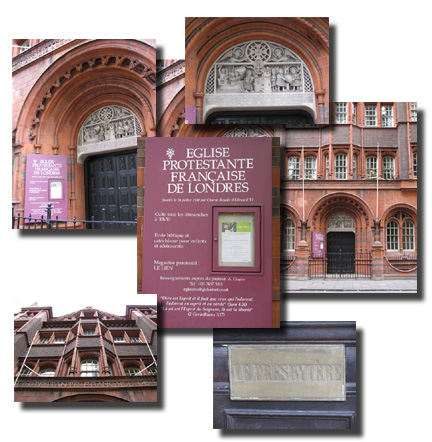 en français