The Pilon International web page was conceived as a gift to the Pilon family of the world to mark the end of the millenium.

The idea behind it came from the great success that an earlier site, the unofficial site of the Association des Pilon d'Amérique, had enjoyed. In particular, we received e-mails from people well beyond the borders of Canada, who were descendants of Pilons and who wished to learn more about ancestral roots. Through our research as well, we came to realize that there are and have been Pilons not only in France and Canada, but also in the United States of America, Belgium, Switzerland, Germany, Italy, Mexico and even England.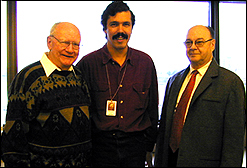 Whether we all have a common root or not will never be known. However, a premise for the creation of this site is that somehow we do share some kind of common ancestry. Accepting this premise opens our eyes and our minds to viewing our neighbours not as strangers, but as distant kin. It opens up our world and reveals our common humanity.
WE ARE FAMILY