On a carriage maker's farm in Malden Township, Ontario, 115 years ago, a baby girl was born. Her name was Louise, and she was my great-grandmother. The day was April 25, 1883. Her father, Victor Pillon was in partnership with his brother, Antoine, a blacksmith. Their business, located on the corner of the farm, was called "A & V" Blacksmith Shop. Victor's ancestors came over from France in the late 1600's and the first recorded marriage was that of Antoine Pillon and Marie-Anne Brunet in Montreal, January 20, 1689. Louise's mother's name was Olive L'Heureus Pillon. Victor and Olive had a total of 13 children, 7 of whom were living when Olive died. Their names were Elizabeth, Louise, Dennis, Louis V., Minnie, Rosa, Donald and Eugene.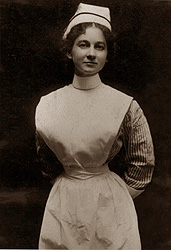 In 1913, Louise was a member of the first graduating class of Providence Hospital with a degree in nursing. According to the Echo Newspaper of Malden Township, she was "one of Malden's cleverest daughters, ... a member of the National Red Cross, ... prepared to go to France to assist in nursing soldiers when matrimony cut short her career in that direction." Louise married my great-grandfather who was Dr. Frederick W. Phillips, born in Waterloo, Ontario, October 16, 1883. Frederick had graduated from Detroit College of Medicine in 1912, and interned at Providence Hospital, where he and Louise met. They were married on April 14, 1915 in a quiet ceremony performed by Reverend Ernest Van Dyke at Saint Aloysius Roman Catholic Church in Detroit, Michigan. Their attendants were Minnie Powers, Louise's sister, and Mary Keeling, RN, a classmate of Louise. Louise and Frederick lived in Battle Creek, Michigan, where Frederick practiced medicine until 1916. They then moved to River Rouge where Frederick was a practicing physician at Wyandotte General Hospital for 27 years.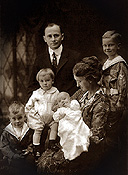 God blessed them with seven children: Frederick Wendell, both 1916, Theodore Pilon, born 1917, Harold Cornelious, born 1919, Victor Augustus, born 1921, John Evarist, born 1922, Mary Louise, born 1924 and Eugenia Ursula, born 1925. Dr. and Mrs. Phillips' parish was Our Lady of Lourdes Roman Catholic Church and all of their children, excluding F. Wendell, were baptized there. Louise was a regent of Lourdes Circle and member of the Daughters of Isabella. She was also active in the Lourdes Altar Society and the Gold Star Mothers. (I believe the Gold Star Mothers is an organization for mothers who lost sons of daughters in WWII. Harold was killed in 1943 while serving in Casablanca, and buried in Tunisia.)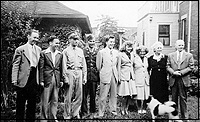 The Phillips family lived at 16 Myrtle St., near Coolidge and Jefferson, in River Rouge, Michigan. They had a lovely garden with a fishpond where Grandma Louise and her son, Vic, enjoyed working.
Frederick W. Phillips died on October 23, 1943, of a heart attack, in Wyandotte General Hospital. He was buried at Saint John the Baptist Cemetery, Amherstburg, Ontario.
Grandma Louise was visited the spring before she died by John and his wife, Sybil, while she was staying in Madesia Beach, near Saint Petersburg, Florida. Aunt Sybil recalls that she, "wasn't very tall, wore all her white hair up on her head and had beautiful blue eyes. I was very impressed by her stature." Grandma Louise died a few weeks later, on April 29, 1948, of pneumonia and heart problems in Providence Hospital. She was buried at Saint John the Baptist Cemetery, Amherstburg, Ontario.

Katharine Parker
1998