John Pillow, silk weaver (1714-1783) married Elizabeth Lansell (1723-1775) on 3rd August 1749 at St. Martin's Church in Canterbury. John had also been, a seaman (10 years on board of a Man of War), and later a Schoolmaster at Canterbury according to the original Pillow investigation.
In 1757, he is recorded as a silk weaver and freeman of the City of Canterbury.
In 1770, there was an advertisement in the Kentish Gazette (see below) which suggests that he may have been the landlord of the George, High Street, Canterbury. His son Edward, the only other likely contender, who later became a hoyman, would have been too young at the time.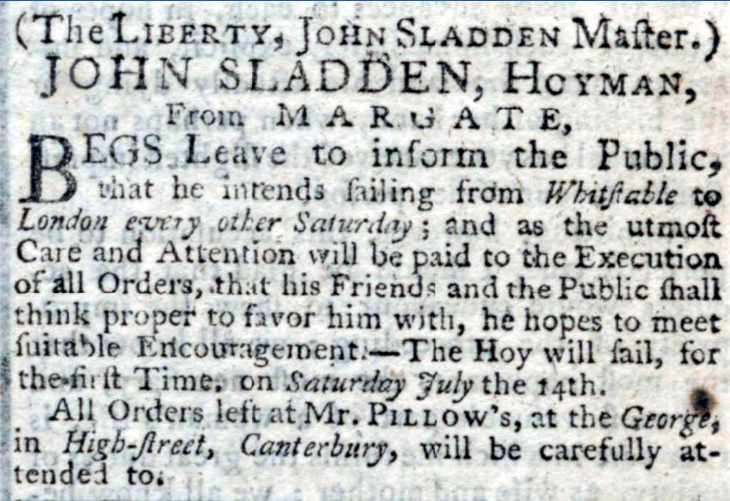 The George was almost certainly the "George & Dragon" which was demolished to make way for the Beaney Institute and Museum - 18 High Street, Canterbury. This inn continued to be a transport hub until the late 19th century. "I took up my quarters at the "George and Dragon, High Street, from which coaches to London and all parts of the coast leave four times a day..." (The Tourist's Guide 1847). Very little else seems to be known about John. He died at age 69 and was buried on the 12th August 1783 at St. Alphege, Canterbury. The church closed in 1982 and became the Canterbury Urban Studies Centre, which then became The Canterbury Environment Centre, which is now closed. The church was taken over by the King's School, and so is no longer open to the public.
His wife Elizabeth had died eight years prior to this and was buried on 26th December 1775 at St. Alphege.
The couple had eight children:

John Pillow (1749-1836) – He was baptised in Canterbury on 15th July 1750 and married Catherine Carden (1749-1818) in 1775. His wife may have originally been from Chatham, Kent. The couple lived in a house called Mount Ararat at Tovil near Maidstone which is still there. He worked as a tanner, probably in the nearby Loose Valley. He was a non-conformist and in 1824 was listed as a subscriber to "A review of the missionary life and labours of Richard Wright" by Richard Wright. (Addressed to the Friends and Supporters of the Unitarian Faith). He is listed in contemporary poll books and directories as being a freeman with a house and land at Tovil and a member of the "Nobility & Gentry" of the area. According to a story from 1937 he "kept a box of golden guineas and a blunderbuss under his bed!". John & Elizabeth had 4 children all baptised at Maidstone – John 1773-1850, Elizabeth 1776-1800, Sarah 1784-1871 and Mary-Ann 1786-1868.
John Pillow died on 3rd October 1836 at age 87 and is buried in grave number 50, with wife Catherine (died 27th April 1818) at the Tovil Anabaptist Burial Ground in Burial Ground Lane, just above the Tovil Waste Transfer Station. The burial ground is now in the care of Tovil Parish Council and inquiries to visit it should be made to the parish clerk.
His will, dated 25th March 1815, Maidstone (PRC31/306 P/2) was subject to probate on 21st November 1839 (PRC32/70/235) and mentions various other family members. It is available as a downloadable PDF file from the National Archives as Ref: PROB 11/1919.
James Pillow (1752-1825) – He was baptised on 19th January 1752 at St. Alphege and married Margaret Hartup (or Hartcup) on 1st March 1786 at the church of the Holy Cross, Canterbury. The couple had eight children as follows: Charlotte 1788-1791, Harriet b.1789, Sarah b.1791, Elizabeth 1793-1796, James 1794-1798, Sophia b.1798, James Hartup 1800-1814, Mary Ann b.1802.
In 1766, on the 10th December, he was apprenticed to Walter Scott, saddler of Canterbury. By 1773 he was on the electoral roll as a saddler and freeman of the City of Canterbury. In 1787, on the 22nd April, he takes on an apprentice, Pearce Lowen. He is also listed in 1791 as a saddler (Canterbury Directory). Around 1798 he seems to have moved to Harbledown on the outskirts of Canterbury and then in 1802 to Ham, near Sandwich. By 1824 (Pigotts) he had returned to Canterbury and become a truss maker of Palace Street.
He died 1825 and was buried on 16th June at St. George the Martyr, age 73, said to be a resident in precincts of the Archbishops Palace.
Elizabeth Pillow (1754-1756) was baptised on the 8th May 1754 at St. Alphege, Canterbury.
Jane Pillow (1756-1802) was baptised on 28th April 1756 at St. Alphege, Canterbury. She married carpenter William Moss (b.1756) on the 19th February 1784 at St. Peter's Canterbury. The couple had 4 children, all born in Canterbury: Elizabeth 1785-1861, Maria b.1788, Charles b.1790 and George b.1792.
Henry Pillow (1758-1762) was baptised on the 7th June 1758 at St. Alphege, Canterbury.
Edward Pillow (1759-1837) was baptised at St. Alphege's on 14th November 1759 and married Maria Cooper (1762-1834) on the 14th February 1784 at Canterbury. He was a tailor of St. Peter parish, Canterbury, (as he was when married Maria Cooper in 1784) and later a brewer (in his court case 1813). On the 14th March 1774 he was taken on as apprentice tailor by Edward Andrews and by 1781 he was shown on roll as a tailor and freeman of the City of Canterbury. Edward & his wife are pictured below:
| | | |
| --- | --- | --- |
| | These portraits (object numbers 1935.155 (left) and 1935.156 (right)), estimated to have been painted ca. 1790, are part of the collection of the New York Historical Society whose permission to use these images is gratefully acknowledged. | |
He was married by licence at St. Mary, Northgate - Witnesses were James Pillow (his brother, a saddler) and Charles Matson (upholsterer). In the same year he became a member of the Woollen Drapers' Company. In 1786, he took on a John Tritton as an apprentice. (UK Register of Duties Paid for Apprentices Indentures - Ancestry). Edward is also shown as a "taylor" in the 1791 Canterbury directory.
On 27th October 1792 in the records of Sun Fire Office, held at London Metropolitan Archives, Guildhall Library, he is shown as insured, Edward Pillow, parish of St. George, Canterbury, draper and tailor. In 1795, a bronze half-penny "Conder" coin was issued in connection with his business (see photo below) and on the 6th June 1797, Edward was appointed clerk to St. George the Martyr, Canterbury, by the rector, James Ford. (Canterbury Cathedral Archives) He retained this post until his death in 1837 (Pillow Family Enquiry).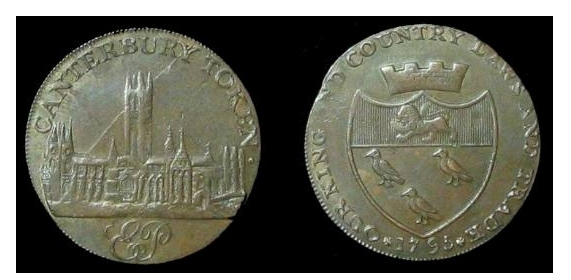 In 1802 he was listed under "Freeholders" in the poll book for Lath of St. Augustine, Home Division, East Kent. A little after this time he became involved in the brewing industry with premises at St. George's Place next to the Star Inn upon which premises he also built a coal-yard (see advert below taken from Kentish Gazette) Alas, the area was heavily bombed during WW2 and nearly all the buildings destroyed. The roundabout at the intersection of the A28 ring road and the A257 now roughly covers the site on which the brewery stood.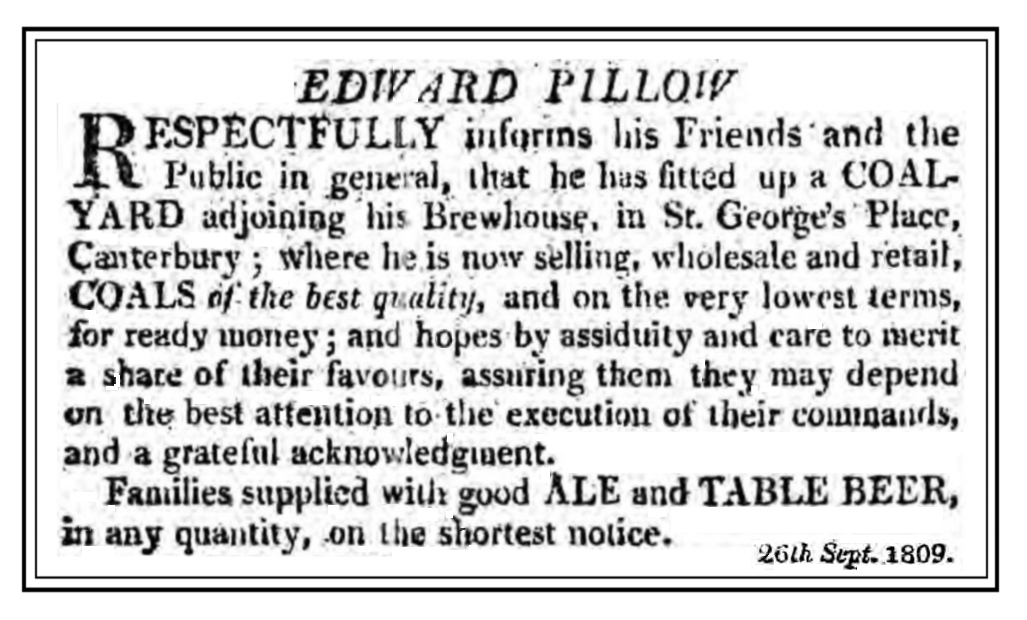 In 1811, at his premises at St. George's Place, one of his employees, a Thomas Back, committed suicide by hanging himself (see Kentish Gazette 26/4/1811). Also at around this time, following a loan of nearly £2,000 from his son, Edward became a hoyman; the co-owner of a sailing barge named The Thomas & Stephen and later another called The Canterbury.
He must have overstretched himself because, by 1813, he was bankrupt and had been imprisoned for debt at the King's Bench Prison, (now Southwark) Surrey. Although no age is mentioned in the very detailed reports, it is clearly Edward Snr. and not his son Lt. Edward that became bankrupt. In fact, his sons Edward & Charles both produced statements to the court claiming large sums of money from their father. (Nat. Archives Ref: B 3/3914). Conditions at the King's Bench Prison were not good. It was overcrowded, disease was rife and the only way to improve your accommodation was to pay for it. He was released from prison on 29th June 1816 shortly before the death of his sons Edward and Charles.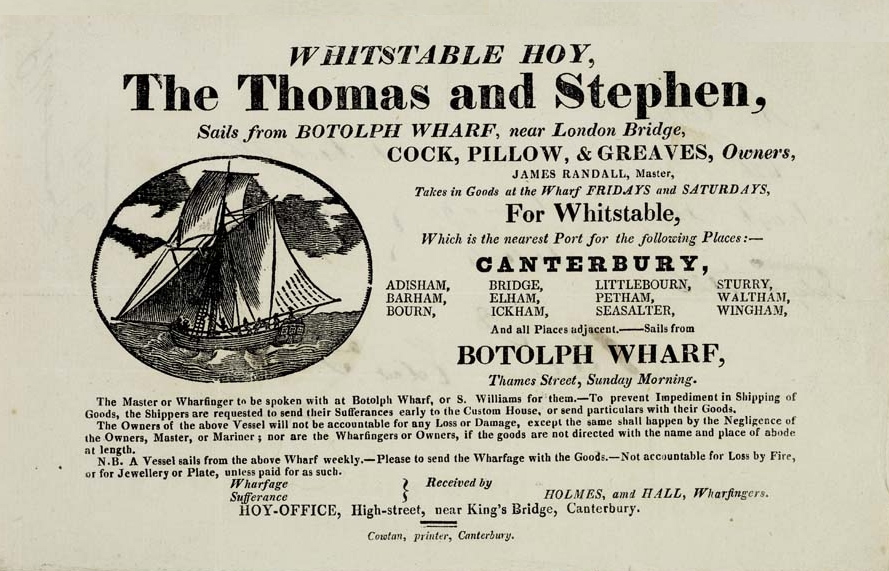 His stay in prison did not seem to deter him from his involvement in the hoy business because in the 1818 poll book for the city he is listed as a hoyman resident in High Street, Canterbury. In 1824, in Pigot's directory - "Cock, Pillow and Greaves" operated a water conveyance service from Canterbury to London by way of Whitstable every Monday. Apparently Whitstable hoys were used from the 18th century onwards to transport goods and passengers to and from London. The Whitstable Hoy and Trading Company were still in existence in the 1960s and not finally dissolved until May 1998. There is a lease on stall No.18, dated 16th February 1825, in Canterbury market from Mayor and Commonalty to Mess Cock, Pillow and Greaves. (Canterbury Cathedral Archives)
In 1830, he is listed in the poll book as occupation, hoyman resident at High Street, Canterbury. Similarly in 1832 and 1835, he is on the voting list living at "Parade" in Canterbury.
He clearly still retained an interest in the tailoring industry because in 1835 at the East Kent Registration Meeting Edward was admitted as a (accepted to be a valid) voter as a member of the Company or Fellowship of Wollendrapers and Tailors (consisting of 6 individuals). The company owned houses at St. Georges which they rented out. (Kentish Gazette 29/9/1835)
In 1837, he is listed as a voter in Canterbury, but did not vote. He probably died before the election took place. His death on 11th February at the Parade, Canterbury was announced in the Kentish Gazette on 14th February. In his will, proved in April 1837, Edward states that he has a one third share in the company Cock, Pillow and Greaves, that his partners are John Cock & Daniel Greaves and that the vessel was named "The Canterbury".
Edward was buried at Canterbury on 19th February 1837 at St. George's Canterbury age 77, a resident of St. Andrew's parish. (CCA)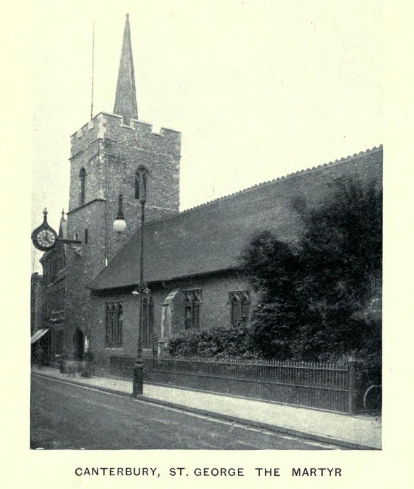 Edward's household goods are advertised for sale in the Kentish Gazette of February 28th 1837. There is a fairly detailed inventory in the newspaper. The address where goods were sold from, presumably the late Edward's home, was 2 The Parade, Canterbury. The Parade is the continuation of the High Street from Mercery Lane to Canterbury Lane, St. George's parish. (Auctioneer, Whites & Goulden, located at St. George's Street & Sun Street, must have been separate premises). He was described at the time of his death as "one of the lay clerks of the Cathedral" (Kentish Gazette 14/2/1837)
Edward's wife Maria, who had died three years previously, was the sister of three times Mayor of Canterbury, John Cooper (Sheriff, Alderman & Magistrate). She was buried on 28th December 1834 at St. George's Canterbury. The church, burial place of both Edward & George, (pictured on the left) was destroyed by bombing during WW2. Only the tower now survives. John Cooper's son, Henry was Mayor of Canterbury five times.
Edward and Maria had ten children, all born & baptised at Canterbury, as follows:
Edward 1784-1816, George 1785-1850, Charles 1786-1817, Maria 1790-1814, Frances 1792-1797, Thomas 1796-1879, Frances 1798-1854, William Henry b.1800, John 1803-1865 and Elizabeth 1806-1849.
Sarah Pillow (1761-1845) was baptised at St. Alphege on the 28th January 1761. She married tailor and widower Edward Dane (1761-1811) from Wye, Kent on the 24th December 1801 at St. George's Canterbury. Sarah settled at Wye, 12 miles to the SW of Canterbury, with her new husband and had two children: Maria 1802-1803 and Frances 1803-1877. She remained living in Wye, died there and was buried on 6th May 1845.




River Stour at Wye.
Elizabeth Pillow (1762-1826) was baptised at Westgate, Canterbury on 6th January 1763. She married hairdresser John Taylor (b.ca.1770) at St. Peter's Canterbury on 27th April 1800. She also seems to have worked as a hairdresser and does not appear to have had any children.
The above details of baptisms, births, marriages and deaths are taken from either the Mormon's "Family Search" website, from transcriptions of surviving records of the Stranger's or Walloon Church at Canterbury, from the census records, parish records, local newspapers, Canterbury Cathedral Archives and from direct contact with other family members. Be aware though that there could well be other explanations for some of the relationships or events stated. Nothing is written in stone and I would be very interested to see anyone else's version of events.