Lieutenant Edward Pillow (1784-1816) and Mary Ann Pillow (1786-1868) had two surviving sons. Edward, my 3g grandfather, about whom this short article is written, was the eldest and born in Maidstone. Henry Charles, his younger brother was born in 1817 in Canterbury a few months after the death of his father. He was acquitted for larceny at age 17 in 1834 at Kent County Court and shortly after joined the army gradually working his way up to the rank of Sergeant Major. He served in Ireland and Malta, where he travelled with his first wife who he married in 1844. One of his sons, another Edward, remained and established the family in Malta. (follow this link to learn more about the Pillow's of Malta). In 1877 Henry remarried in London. At the time he was a librarian, and a widower living at 7 Friar Street, Blackfriars Road. Later he lived at 24 Hackney Road, London (ref: son Frederick's army papers)
Although Edward, Henry Charles' brother, was christened at Maidstone, on 4th September 1812 (LDS IGI), his parents had returned to Canterbury by 1814. Here he married Caroline Admans (1814-1904), at St Alphege's on 12th October 1835; his occupation when he married was recorded as cabinet maker. Caroline was the daughter of bricklayer John S. Admans, who was appointed tradesman to Canterbury Council in 1799.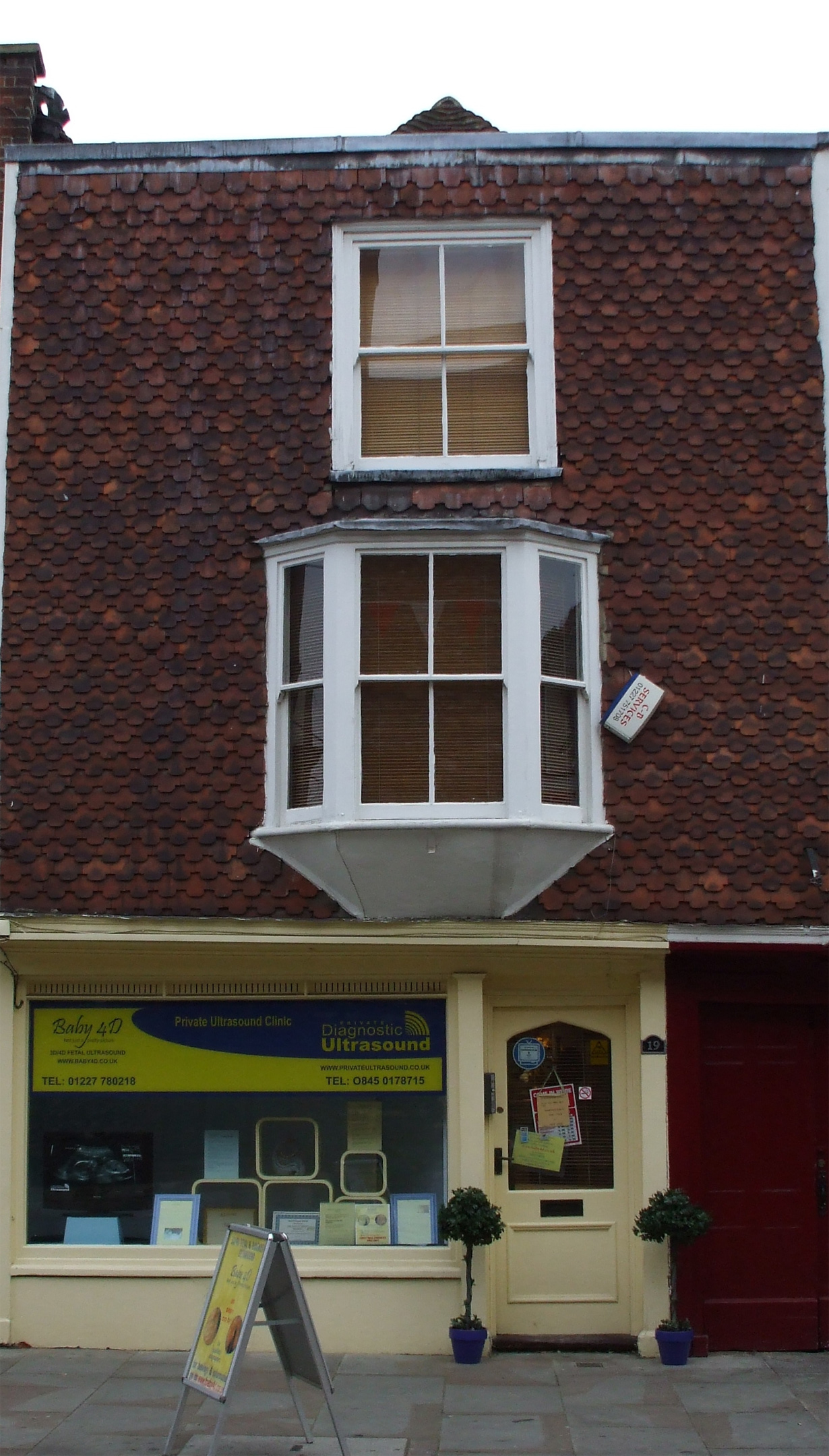 Edward seems to have tried various lines of work. For example, in 1840 he seems to be the only candidate for the listing in Kelly's directory as a baker at 20 Biggin Street, Dover. Dover was the birthplace of Edward and Caroline's youngest children, born approximately 1837 and 1838.
In 1840, he is also listed as a paper hanger, living or working from 21 Burgate Steet, Canterbury (the house was destroyed/damaged in WW2. The road runs east from the cathedral main gate towards the city wall & A28). He remained a paper-hanger for the rest of his working life. In 1841, he was living with his wife and three eldest children at Broad Street, Canterbury, but by 1847 (Bagshaw's History & Gazetter) he was living at Palace Street where he operated his business.
Unfortunately, in 1848-9 it is recorded in the London Gazette that he became bankrupt. He was described as a "dealer in paper hangings, paper hanger and tobacconist, dealer and chapman" of 19 Palace Street. He became bankrupt after taking a big gamble in buying thousands of sheets of wallpaper at a discounted price and selling them off very cheaply when the industry was suffering a serious decline in profitability. (See extract below from the Kentish Gazette of 1848). Clearly, things did not go well for Edward after this time.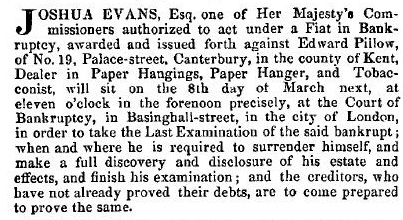 Despite his bankruptcy, by the time of the 1851 census he was still living with wife, now with six children, at 19 Palace Street, Canterbury. His occupation was said to be master paper hanger. The building was described as having three stories and fish scale tiles. Assuming that it retains the same street number, the shop is still there today (see the photo on the right). I am unsure about how much longer he remained at these premises. Things certainly started to go wrong for Edward and his family not long afterwards. The crime records suggest that the family had become increasingly poor. Both Edward and a number of his sons got into trouble for petty theft. In 1860 Edward was charged with stealing a piece of birch plank and sentenced to 14 days hard labour on Thursday 10th October.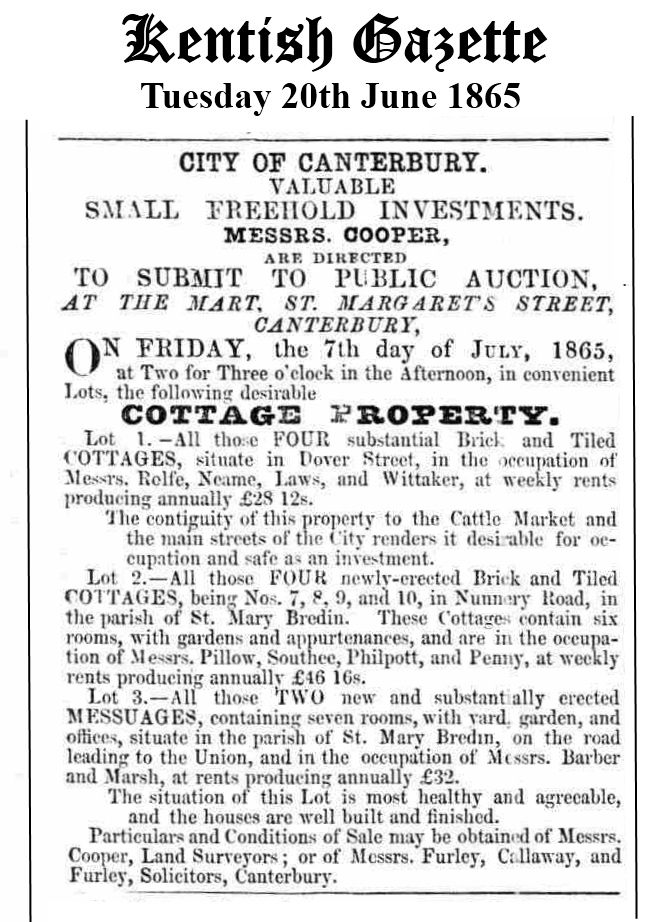 By 1861 he was living at 21, Burgate Steet, with wife Caroline and five children and in 1864, Edward Pillow, now of Nunnery Cottages, was jailed for 6 weeks for stealing a piece of timber from T.G. Cozens on 12th November 1864 (Kentish Chronicle). In 1865 - The lease on Edward's newly built house, 7 Nunnery Cottages, which he rented from the Coopers, was advertised for sale on 20th, 27th June and 4th July 1865 in the Kentish Gazette. Maybe his rent was increased because in 1866 he was charged (though acquitted) with stealing a bucket from a Mr. Henry Philpott. In 1866, he was imprisoned for 4 months for stealing a pair of ox feet from Edward Southee, feltmonger.(Kentish Chronicle). Messrs Philpott and Southee were probably his neighbours at Nunnery Cottages.
By the time of the 1871 census he had moved again and was living at 7 Lansdown Road, Canterbury (outside the city walls near to St. Mary Bredin Church) with wife Caroline and children. However, by 1881 he was back in Nunnery Fields, but this time in the Canterbury Union Workhouse, listed as a paper-hanger (pauper) aged 71, born in Maidstone. He probably died there towards the end of June 1884. He was buried on 1st July at Canterbury (LDS IGI); this will have been at Canterbury City Cemetery which opened in 1877 in Westgate Court Avenue, Canterbury. The Burial Registers, 1877-1953, are held at Canterbury Cathedral Archives (Ref: CCA-CC-Q/BB/F/1)
Edward and Caroline had the following children:
Edward John Pillow (1837-1898), paperhanger, married Ellen Sarah Geering (1840-1881) Canterbury, 1859 moved to Ramsgate – 7 children born Canterbury & Ramsgate;
Henry (aka Harry) Pillow (1838-1921), bricklayer/labourer, married Eliza Page (1840-1888) Canterbury, 1860 remained in Canterbury – 8 children;
Mary Ann Pillow (1840-1849) died Palace Street - death announced in Kentish Gazette;
Thomas Pillow (b.1843), teacher/professor of music, moved to Holloway and married Mary Jane Croft in 1866. No children recorded in UK. Possibly emigrated to USA;
Charles Pillow (1845-1868) unmarried, sailor, drowned at sea off coast of Durham, Whitstable Times 1869;
William Pillow (1848-1915), paperhanger, unmarried, remained in Canterbury;
George Pillow (1850-1927), general labourer, married Agnes Amelia Ruck (1845-1916), Canterbury, 1870 remained in Canterbury – 4 children;
Robert Pillow (1853-1929), cellar-man/house painter, married Mary Ann Webb at Blean, Canterbury 1876. Remained in Canterbury – 7 children;
Caroline Pillow (1855-1918), dressmaker's apprentice when married to bricklayer, Edward Watson Richardson (1856-1925) Canterbury, 1874. Remained in Canterbury – 7 children;
Emma Pillow (1857-1940) married coach builder James J O Webb (1858-1913) Canterbury, 1880 moved to Bromley, Kent – 3 children born Bromley;
Eliza Pillow (b.1860) married paperhanger & painter, George Bailey (b.1869), Canterbury 1883. Remained in Canterbury – 3 children.
Though Edward was in the workhouse in 1881, Caroline, his wife, remained living at 7 Lansdown Road, Canterbury, which is a street of terraced houses off Nunnery Fields, with their son William, also a paper-hanger. She was described as a "Paperhanger's wife". In 1889, she is still living at the same address listed as a paperhanger (www.machadoink.com), but the 1891 census shows her as staying with her son Henry at 11 Hawks Lane, Dane John Ward (although her name is recorded as Lavinia, she is described as Henry's mother. Her age and birthplace tally). On the 1901 census she is living at 26 Broad Street, aged 86 and with widowed daughter Eliza Bailey aged 40 and her youngest daughter Edith aged 10. Caroline's son William is also living there. Her death was registered at Canterbury between July & September 1904. She is also presumably buried at the City Cemetery, Westgate Court Avenue, Canterbury.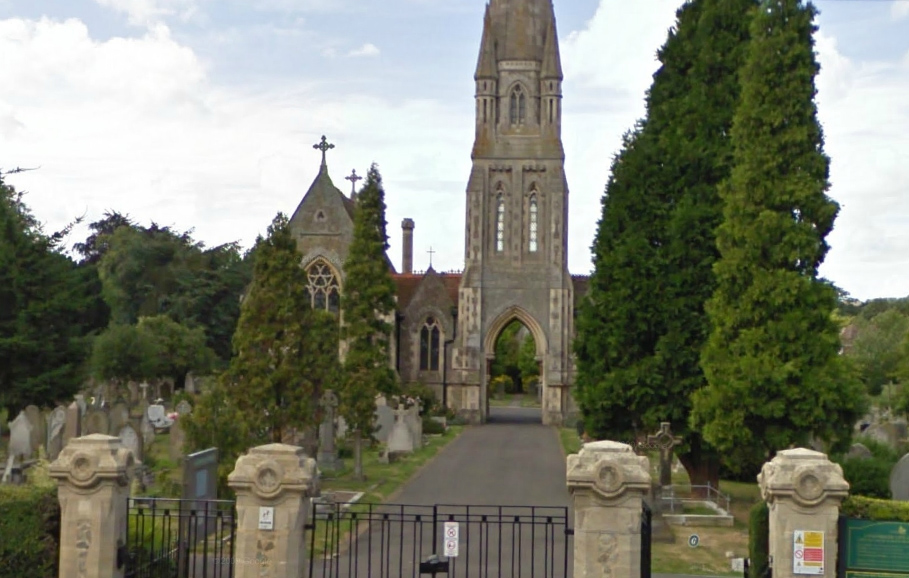 The main entrance to Canterbury City Cemetery, Westgate Court Avenue, a turning off the Whitstable Road;
final resting place of Edward and Caroline Pillow. Photo c.2009
The above details of baptisms, births, marriages and deaths are taken from either the Mormon's "Family Search" website, from transcriptions of surviving records of the Stranger's or Walloon Church at Canterbury, from the census records, parish records, local newspapers, Canterbury Cathedral Archives and from direct contact with other family members. Be aware though that there could well be other explanations for some of the relationships or events stated. Nothing is written in stone and I would be very interested to see anyone else's version of events.

(November 2012)