Edward Pillow was born in Canterbury in 1784, the son of Edward Pillow (freeman, tailor and later hoyman) and his wife Maria, née Cooper, sister of the then Mayor of Canterbury, John Cooper. Edward Jnr. was christened at St. Peterís, Canterbury on 5th November 1784.
Details of his early life remain obscure, though his parents were certainly from the wealthy merchant class. His father had his own trade token produced in 1797 and his younger brother Thomas, who went on to become Master of the Company of Waterman in London, attended King's School, Canterbury.
In the late 1790s, Edward Junior joined the Royal Navy. It was normal in those days for sons of the wealthier classes to work as boys onboard ship and to gradually make their way up the ranks to become officers. Young Edward was apparently stationed in India for 14 years, meaning that he most probably joined about 1796 at age 12.
In 1802, by then aged 18, he was aboard HMS Monkey, a 12 gun Bloodhound class gun-brig, launched at Chatham in May 1801. I believe that he was only a passenger on this vessel as his name does not appear on the muster roll or in the pay book. He was transferred to HMS Concorde on 11th June 1802 (appeared 16/6/1802) his birthplace given as Canterbury in the muster roll. He was allotted crew number 599 (No. & letter of tickets: Ly). Until 25th February 1803, he was a midshipman but from that date he was promoted to the more senior post of Master's Mate serving under Captain John Wood from Sandwich. He continued to serve under this man for most of his naval career until Captain Wood retired in about 1808. He may possibly have been distantly related.
On 25th March 1805 Edward Jnr. was discharged to HMS Howe for passage to Phaeton. He actually transferred from HMS Concorde on 6th June 1805 as midshipman to HMS Phaeton. He remained at the rank of midshipman until 27th November 1805. From then until 1st January 1806 he became Masterís Mate once again, later serving as Acting Lieutenant from 18th June 1807. On board Phaeton he was crew member number 315 (No. & letter of tickets: LL)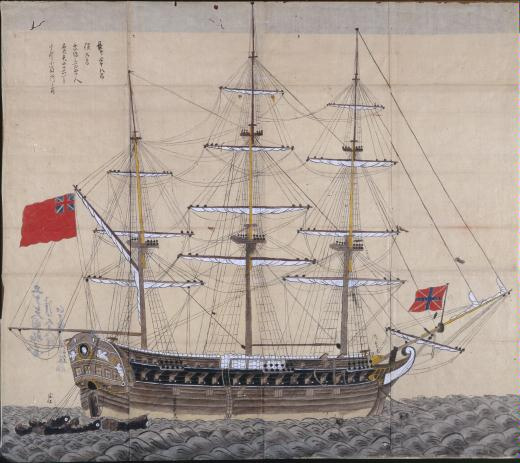 HMS Phaeton pictured here while in action in Japan ca.1808
In May of 1807, an event of some significance in young Edwardís life took place. The Phaeton captured a valuable Spanish vessel with a cargo worth more than a million dollars. Edward would of course receive a share of the prize money. This seems to have amounted to a considerable sum. In 1810, Edward would lend his father nearly £2,000 in an attempt to protect him from bankruptcy.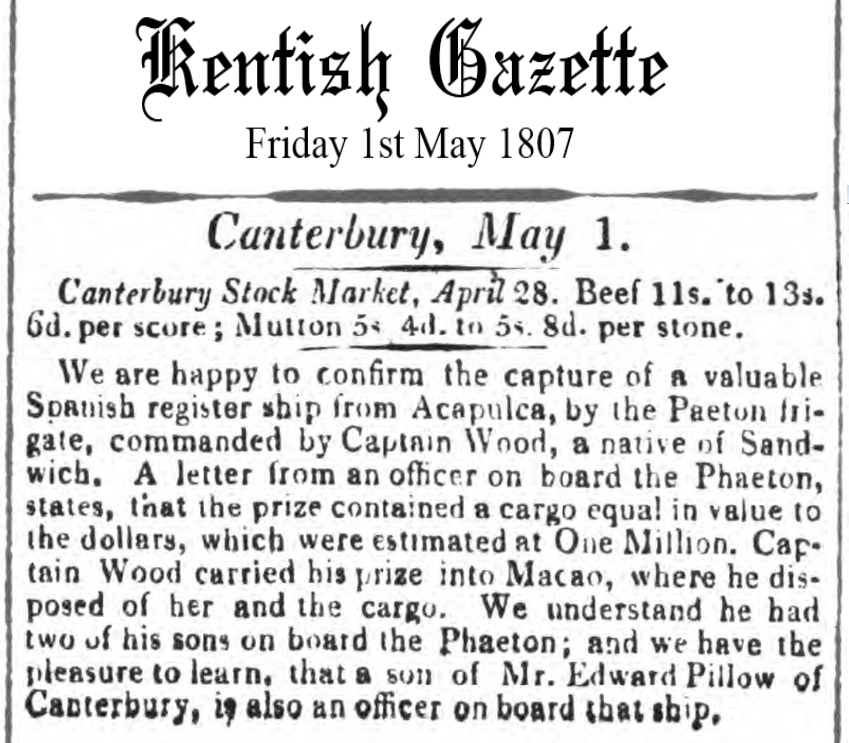 The newspaper article on the right from the Kentish Gazette reports the event. Captain Wood retired not long afterwards due to ill health.
During his time in the East Indies, he sent a gift comprising of a beautiful ivory fan or brise (pictured below) to his mother Maria. The fan, which was passed to her daughter Frances, eventually ended up in the collection of the New York Historical Society Museum.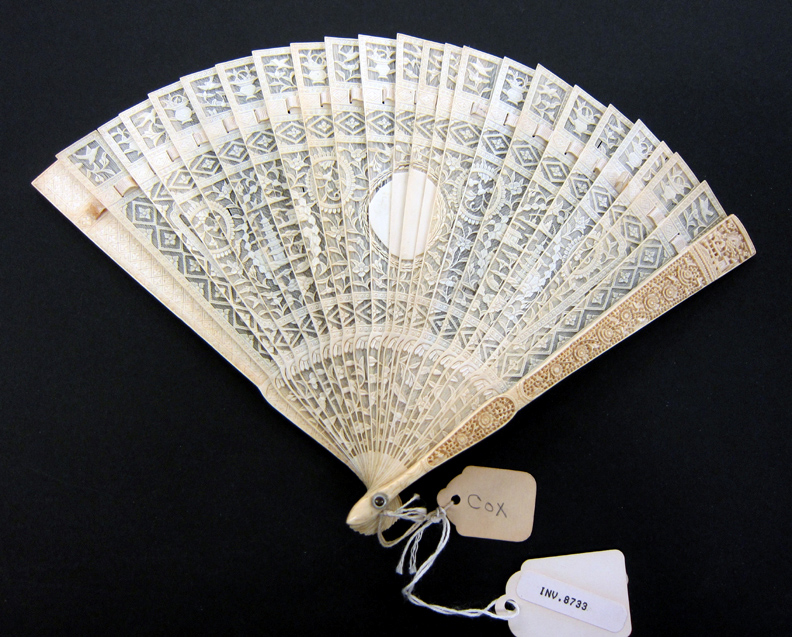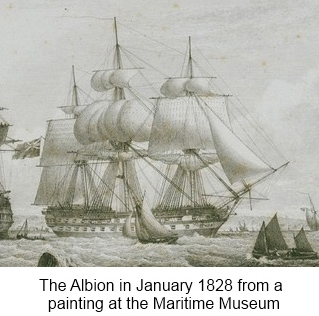 On 3rd February 1808, Edward Pillow transferred to HMS Albion (a 74 gun, 3rd rate vessel with a crew of 590 men, she was launched in June 1802, from Blackwall). On 4th February he appeared on the muster roll as midshipman, age 24 - Crew number 43 (No. & letter of tickets: INN). He became Master's Mate on 23rd May 1808. HMS Albion returned to England from the East Indies, leaving ca. July 1808, escorting a fleet of nine East Indiamen, via India, Oct 1808, arriving England 1809. On 30th September 1808, Edward was discharged to HMS Sloop (illegible) to Sir Edward Pellew, (Admiral of the Fleet) for promotion. HMS Albion suffered considerable damage in Nov. 1808 in a hurricane on the way home and was under repair until 1812. She was broken up in 1836 (Ref: Wikipedia). It was reported on 30th December 1808 that Edward Pillow was made up to lieutenant (Ref: "Commissioned Sea Officers of the Royal Navy, Vol.3 p.729"). It would seem that following his promotion and return to England that Edward never actually served as a Lieutenant on board ship.

Lt. Edward Pillow and his first cousin, Mary Ann Pillow, were married on 5th September 1810 in the City of London. They had four children in all, two of whom, Mary Ann & Charles, died in infancy.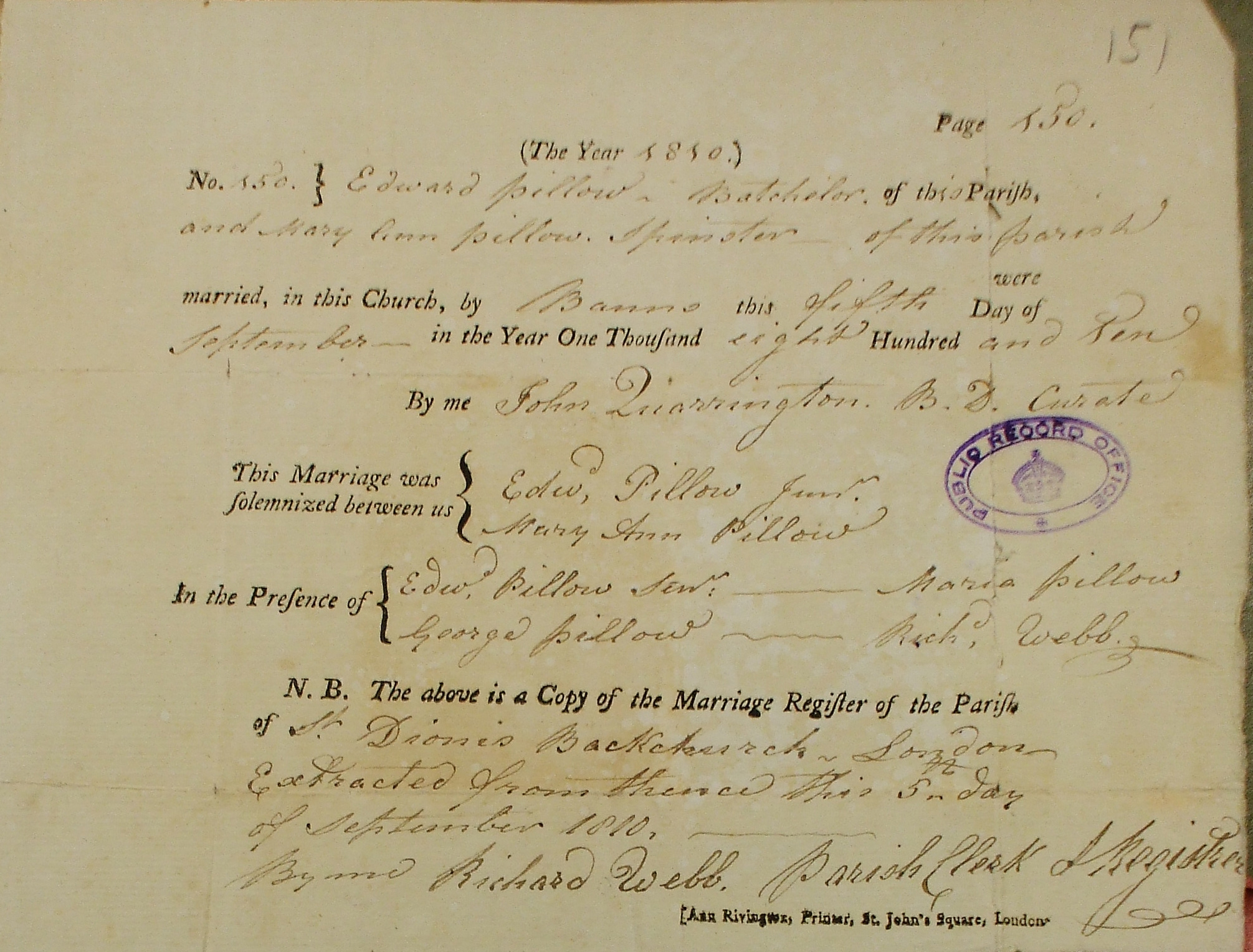 | | | |
| --- | --- | --- |
| | These portraits of Edward Pillow Jnr. and his wife Mary Ann Pillow by unknown artists are estimated to have been painted ca. 1810. | |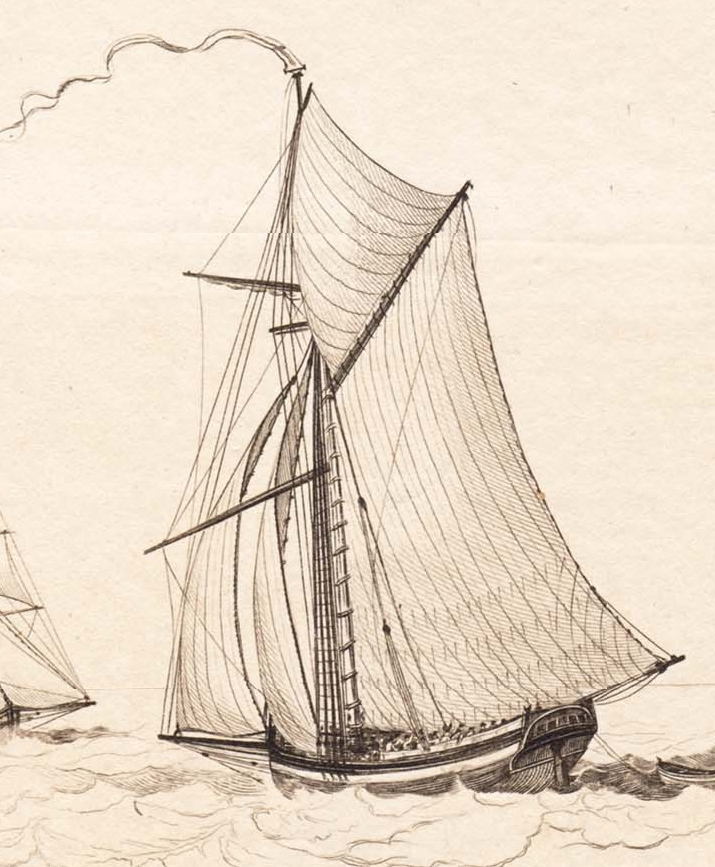 Edward and his new wife went to live in Canterbury. Shortly before his sonís marriage, Edward Pillow Snr. had purchased a share in the hoy Thomas & Stephen, a small sailing vessel (the type of vessel is shown in the drawing on the left) that carried goods and passengers between London and Whitstable. By 1813 Edward Snr. was bankrupt, owing several thousand pounds to a number of people including Edward Jnr. This was a business venture that clearly went very wrong. While his father was in the Kingís Bench prison in London, it is thought that Edward Jnr. looked after the hoy business at Whitstable.
Unfortunately Edward Jnr. died at the young age of 32 at Canterbury on 11th December 1816 (cause of death undiscovered to date); his wife & surviving children received charity relief from the Admiralty. Edward was buried at St. Mildred's Church, Canterbury on 18th December 1816. He was said to have died at nearby Wincheap.
He was survived by his wife and 2 children. Mary-Ann, his widow, continued to live in Canterbury at 8 St Georgeís Terrace until her death in 1868. Edward & Mary-Annís children were as follows: Mary Ann (Born and died 1811), Edward Pillow (1812-1884) my 3rd Great Grandfather, Charles Pillow (1814-1815) and finally Henry Charles (1817-1888) who became a Sergeant Major in the army. He served in Ireland and Malta where he married Henrietta Daniel. One of his sons, Edward, remained in Malta and started a Pillow branch there (follow this link to learn more about the Pillow's of Malta).

The above details of baptisms, births, marriages and deaths are taken from either the Mormon's ďFamily SearchĒ website, from transcriptions of surviving records of the Stranger's or Walloon Church at Canterbury, from the census records, parish records, local newspapers, Canterbury Cathedral Archives and from direct contact with other family members. Be aware though that there could well be other explanations for some of the relationships or events stated. Nothing is written in stone and I would be very interested to see anyone else's version of events. (November 2012)