Congratulation to Colette Pilon-Larochelle
---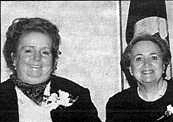 Sincere congratulations to Colette Pilon-La Rochelle, member 335 of L'Association des Pilon d'Amérique, for having been admitted to the Order of the Lieutenant-Gouvernor of Québec for her contribution to the Foundation of the Multiple Sclerosis Canadian Society, Abitibi-Temiscaming Section.
Note from the Editor:
It is with sincere pleasure that on two occasions I had the privilege of spending some delightful hours with Colette, at her home. A very courageous and visionary woman rarely to be found today. She is steadfastly proud of her ancestry, her family, courageous husband and charming son, Pierre. I experienced through my conversation with her the benefit of her serenity, the wealth of her maturity through long suffering and self-sacrifice, understood a little bit of her profound generosity, love of others and dedication to causes.
What charm it is to listen to her description of her very active years as a young teacher and recreation coordinator of activities she supervised for teen-agers in Northern Quebec. The discovery of her illness and eventual paralysis as she was about to wed strengthened her bond with André, her devoted husband, and re-oriented her generosity and dedication to young people and charitable causes. A lady with a purpose.
My Very Dear colette, how well you deserve this Decoration for your courage. I know in my heart that this honour will never attain the heights of your Valour, Courage and Generosity. You transform every one who has the privilege of meeting with you.
Congratulations and thank you so much.
Robert M. Pilon
Founding president of L'Association des Pilon d'Amérique

---